Meter Activation
The Meter Activation process is now a remote connect from our office, and will require you to connect your meter when you arrive at the property. This is a required safety measure preventing the power from going on all the way, until someone is present. Please follow the instructions below to activate your power.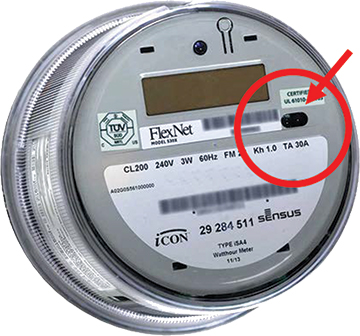 Activation Instructions:
TAKE A REGULAR TV, DVD OR STEREO REMOTE OUT TO THE METER. *NOTE: DO NOT USE A DIRECTV OR SATELITE REMOTE!
POINT THE REMOTE DIRECTLY AT THE SENSOR ON THE METER. THE SENSOR IS LOCATED ON THE METER FACE IN THE CENTER, JUST TO THE RIGHT (CIRCLED ON GRAPHIC TO YOUR RIGHT).
THE METER DISPLAY WILL FIRST READ 'OPEN A' PUSH ANY BUTTON ON THE REMOTE. YOU WILL HEAR THE METER 'CLICK' AND THE METER DISPLAY WILL CHANGE TO READING 'CLOSED', AT THAT TIME YOUR POWER IS FULLY ON.
IF YOU FIND THAT YOUR METER IS NOT TURNING ON, PLEASE CHECK THE BATTERIES IN YOUR REMOTE AND VERIFY THAT THE REMOTE WORKS; PERHAPS TRY AN ALTERNATE REMOTE IF YOU HAVE ONE. ALSO PLEASE TRY TOUCHING THE REMOTE DIRECTLY ON THE METER FACE GLASS AND SENSOR.
This is the method for connecting your meter, once the meter receives a valid signal from an infrared remote it will connect. You can contact us during business hours for further help or any additional questions at: 520-723-7741